OPTIMIZED FOR EVERY INDUSTRY
Electric heaters made by elwatec
Electric heaters are used for heating of all liquid media as well as for evaporation of liquids.
They are used, for example, in the petrochemical and chemical industries, in the automotive, paper and cement industries, by manufacturers of lubrication systems, i.e. in all industries where the heating of liquids is required.
Electric heaters allow heating to high temperatures without significant loss of performance due to scale formation, and the temperature range can be easily controlled.
In addition, combining an electric heater with a conventional heat exchanger can open up new opportunities for use.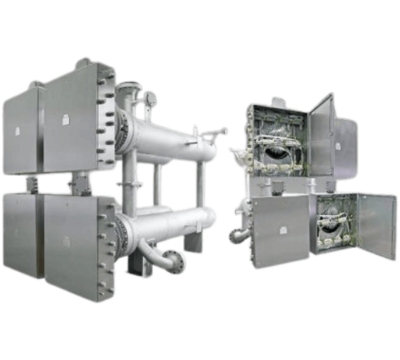 Manufacturing example of electric heater for liquids
elwatec designs and manufactures
the following types of electric heaters:
CONTACT US!
We are designing and manufacturing the electric heaters according to customers' specifications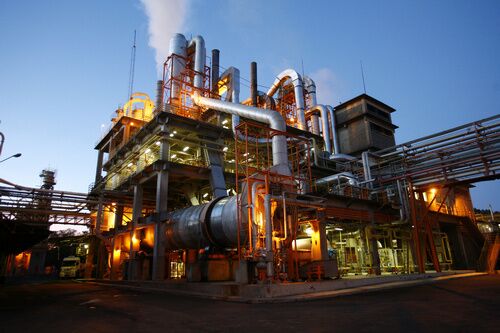 Working media of electric heaters
Working media of the electric heaters can be liquids or gases, such as air, nitrogen, hydrogen, hydrocarbons, argon, oxygen, etc., or e.g. the following liquid media: water, oils, thermal oils, water-glycol mixtures.
All our electric heaters can be used for heating of all flowing media as well as for evaporation of liquids, i.e. in all industries where heating of operating media is required. They can be installed anywhere: outdoors, indoors and in potentially explosive areas.
Our devices can be used for temperatures up to 1100 °C and pressure up to 350 bar. At the same time, there is no upper limit for the power (total power consumption) of the heaters.
We have repeatedly produced devices in the range from 1kW to 8000kW.
When designing electric heaters, we are guided exclusively by customer requirements.
Design codes
Electric heat exchanger could be designed, manufactured and tested by elwatec in accordance to the following design codes:
DGRL
ASME VIII Div. 1
CHINA-License
UDT
GOST / EAC
Others on request.
Material
Electric heaters are available in:
carbon steel
seamless steel
titan
duplex steel
various special steel edition
Approval according to Ex standard
Nothing stands in the way of using our products in potentially explosive atmospheres thanks to our ATEX certification.
Our devices are approved for use in explosion risk areas 1+2, gas group IIA-IIC and temperature classes T1-T6 according to the operating principle.
Some advantages of electric heaters
made by elwatec Wärmetechnik
This is what characterizes our electric heaters:
supplied power is converted at 100%
high outlet temperatures and complex temperature curves are possible
heat output up to more than 6.5 MW
outlet temperatures up to 1,100°C; operating pressure up to approx. 350 bar
supply voltages for three-phase current up to 690V, for direct current up to 1,100V
any temperature between outlet temperature and inlet temperature can be approached exactly
mass flow fluctuations from 0 to 100% are possible with exact control of the outlet temperature
Some examples
of manufactured electric heaters